I just love fruit! They come in all shapes, sizes, tastes and colors and are very healthy! Some of my favorite fruits are strawberries, blueberries, blackberries, bananas, oranges, grapefruit, apples and kiwi! Today I've compiled some yummy looking recipes that will be perfect for the upcoming summer! Please enjoy!
Healthy Fresh Fruit Pizza
For the cookie crust:
1/2 c. sugar
1/2 c. butter
1 egg
2 teaspoons baking powder
2 cups flour
1 teaspoon vanilla extract
For the cheese spread:
1 teaspoon vanilla extract
8 oz. cream cheese
1/2 cup sugar
For the topping:
Preheat oven to 375 degrees F. To make the crust, cream the sugar, egg, vanilla and butter until fluffy and light. add the baking powder and flour and mix well. Spread the mixture into a pizza pan or on to a baking sheet. Bake for 10 to 12 minutes or until golden brown. Cool. Combine the sugar, vanilla and cream cheese and spread onto the cooled crust. Arrange fruits on top and cover. Refrigerate for 2 hours and enjoy! Serves 6.
Fruit Dip
8oz package cream cheese, softened and room temperature

2 – 7 oz jars marshmallow creme/fluff (I was able to buy 1-130z jar)
Mix marshmallow creme and cream cheese together (by hand or mixer) until well combined. Serve with your favorite fruit such as strawberries, cherries, bananas, pineapples, etc. Enjoy!
Creamy Fruit Tarts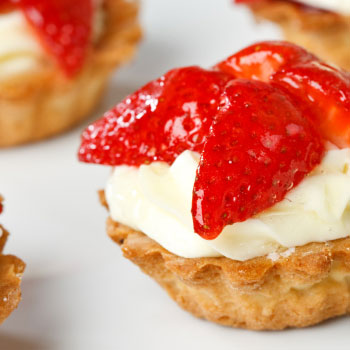 1 cup buttermilk baking mix

2 tbsp. granulated sugar

1 tbsp. butter, softened

6 oz. cream cheese, softened

1/4 cup granulated sugar

1/4 cup sour cream

1 1/2 cups assorted fruit slices or berries

1/3 cup apple or apricot jelly, melted
Heat oven to 375 degrees. Mix baking mix, 2 tbsp. sugar, butter and half of the cream cheese in small bowl until dough forms a ball. Divide into 6 parts. Press each part of dough on bottom and up 3/4-inch sides of 6 tart pans, 4 1/4 x 1-inch or 10 custard cups. Place on cookie sheet. Bake 10 to 12 minutes or until light brown; cool on wire rack. Remove tart shells from pans. Beat remaining cream cheese, 1/4 cup sugar and sour cream until smooth and spoon into tart shells, spreading over bottoms. Top each with about 1/4 cup fruit. Brush with jelly.
Strawberry Fruit Roll-Ups
2 cups strawberries

¼ tsp cinnamon
Blend the fruit until smooth, then spread onto a Teflex sheet or a parchment-lined baking sheet. If using a dehydrator, dehydrate at 105 degrees F for 8-10 hours or until the fruit is pliable and easy to peel from the sheet. If using an oven, leave it on at the lowest temperature until the fruit is dry (times will vary depending on the oven). Cut into strips and store in a glass container in the refrigerator.
Whole Wheat Fruit Muffins
1 1/2 cups whole-wheat flour (I used King Arthur's white whole-wheat flour)

1/2 teaspoon salt

2 teaspoons baking powder

1/4 teaspoon cinnamon

1/8 teaspoon nutmeg

2 eggs

2 tablespoons honey

1 teaspoon pure vanilla extract

1/4 cup

oil

(I used coconut oil)

3/4 cup orange juice or apple juice

About 1 cup of total filling (berries, fruit, nuts, etc. – see below for details)
Heat oven to 400 degrees F. In a large bowl with a fork or whisk mix the flour, salt, baking powder, cinnamon and nutmeg. Make a well (hole) in the center of the flour mixture and pour in the eggs, honey, vanilla, oil and orange juice. Mix the dry and wet ingredients together – do not overmix. Now here is the fun part. If you are in a hurry just add 1 cup of blueberries, mashed up banana & nuts, or other filling of your choice. If you have 5 or 10 minutes extra (and some anxious helpers) do not add anything to the muffin batter before continuing with the next step.
Line a muffin pan with liners and fill 2/3 to 3/4 of the way full with batter. If you didn't already add your filling, sprinkle 1 – 2 teaspoons of whatever you would like (from the list below or from your own creation) onto the top of each raw muffin in the pan. Then gently mix each one with a fork or spoon. Here are some options to consider for the fillings:
blueberries

diced strawberries

peeled and diced pears

applesauce

either diced or mashed up bananas and chopped walnuts

raisins and chopped pecans (I add an extra pinch of cinnamon to the muffins with this filling)

grated carrot and chopped walnuts

orange or lemon zest (only add 1/4 to 1/2 teaspoon of zest per individual muffin)

a mix of dried fruit bits

jelly
After the filling has been mixed into each muffin slide the tray into the warm oven and bake for 10 – 15 minutes or until a toothpick comes out clean. Serve warm or at room temperature and freeze some for a later date. Enjoy!
Yield: 12 muffins.
Fruit

Sorbet

1/2 banana, frozen

about 1/2 cup frozen berries (I like blueberries and raspberries, mixed)

about 1/4 cup chopped frozen mango or pear (adds creaminess)

up to 2 Tbsp. agave nectar (may be omitted)

up to 1/4 cup plain soymilk or coconut milk (may be omitted)
Throw everything in your food processor and whir until it begins to resemble ice cream. You'll need to stop the machine and scrape down the sides two or three times before it comes together. As soon as it's creamy, scoop out and serve–it melts quickly. This is a little scoop of heaven in a bowl!
Note :: As always please use

discretion

when

visiting

the

provided links. Thanks!